Rajlaxmi Guhagarkar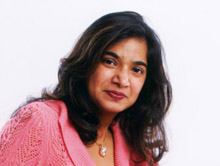 Rajlaxmi is a versatile design professional with experience in architecture and art design related fields.
She also has vast teaching experience in architecture. Currently she is consulting as a Program Director and Lead Instructor for Cornerstone Concilium Inc, a San Francisco based project management firm, recently directing its Basic and Advanced architectural training courses with 'at-risk' juveniles at the Alameda County. Her teaching career began in 1998 with SNDT Women's University in Mumbai, then teaching graduate and undergraduate students at the University of Michigan in Ann Arbor and at the Academy of Art University in San Francisco.
In addition to undertaking home renovation and extension and interior design projects at AARA DESIGN, Rajlaxmi also leads the Set Design practice.
Rajlaxmi has extensive work experiences in the architectural industry, having worked for Fisher Friedman Associates and several other local Bay Area architectural firms. Before coming to US, she worked with STUP Consultants in Mumbai, India.
Rajlaxmi received her Masters in Architecture from the University of Michigan, Ann Arbor and her Bachelors in Architecture from Academy of Architecture (Rachna Sansad), Mumbai
KEY ROLES:
Consulting Program Director & Lead Instructor:
Cornerstone Concilium Inc., San Francisco, USA
Consulting Architectural Designer:
Planning and building permit approvals
Set Designer/ Production Designer:
Douglas Morrison Theater, Castro Valley, California
Gurus of Dance Company, San Francisco Bay Area, California
Architectural Instructor:
Academy of Art College, San Francsico, California
Architectural Designer:
Reif Shaffer Architects, Berkeley, California
Fisher Friedman Associates, San Francisco, California
Assistant Art Director (Bollywood movie – Kuch Kuch Hota Hai) to Sharmishtha Roy:
Mumbai, India
Instructor:
SNDT Womens University, Mumbai, India