Alok Vyas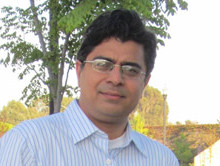 Alok Vyas is a professional master planner and urban designer with experiences in the US, Middle East and India. At AARA Design,  he has been at the helm of planning, urban design, concept design practice and extension/renovation/rebuilding practice.
Alok has managed and led the concept designs and master plans for several national and international level planning projects in San Francisco Region, Denver, Bangalore, Rio de Janiero, Riyadh and Dubai. He has also led planning workshops and participated in presentations and seminars in Dubai, Saudi Arabia, Europe and India. He specializes in bringing progressive, practical and sustainable principles to the projects with a focus on achieving the right balance of Land Use,Transportation and Adaptive Marketability. He brings a unique social perspective from his diverse work experience in India and the US.
Prior to pursuing his Master's Degree in Urban Planning, Alok was a professional architect in India with Pheroze Kudianavala Consulting Architects. There, he worked on the conceptual and detailed drawings for several high-rise commercial and mixed-use buildings in the Bandra-Kurla Complex and downtown Mumbai.
SELECT PROJECT EXPERIENCES:
Bidadi Knowledge City Regional Plan, Bangalore, India – [9,200 acres]
Palm Deira Master Plan, Dubai, UAE – [6,800 acres]
Stapleton Redevelopment Master Plan, Denver, CO – [4,700 acres]
Al Wasl Master Plan, Riyadh, Saudi Arabia – [3,500 acres]
Jumeriah Village Master Plan, Dubai, UAE – [2,000 acres]
2016 Rio de Janiero Olympic Master Plan, Brazil – [350 acres]
Oak Knoll Community Plan, Oakland, CA – [172 acres]
Austin Ranch III Neighborhood Plan, Plano, TX – [120 acres]
Mantri Agara Mixed Use Master Plan, Bangalore, India – [80 acres]
Richmond Transit Village, Richmond, CA – [12 acres]
Transit Oriented Development Plan, Richardson, TX
Wockhardt Headquarters, Bandra-Kurla Complex, Mumbai
NABARD Bank, Bandra-Kurla Complex, Mumbai
MTNL Mixed-Use Building, Peddar Road, Mumbai
Bank of India, Bandra-Kurla Complex, Mumbai